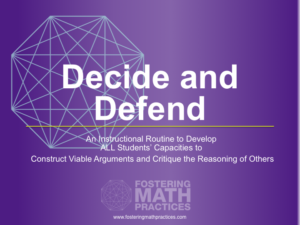 Decide and Defend  #DeciDefend After many trials, revisions, and refinements, we are thrilled to share our newest instructional routine, Decide and Defend. #DeciDefend for short! We have seen that when students engage in the routine, they directly and quickly increase their capacities to make sense of another student's line of reasoning,...
Contemplate then Calculate your way into the school year! This summer, more and more teachers are preparing to start their school year with a week of Contemplate then Calculate.  They see the routine as a powerful vehicle for establishing a strong culture for learning. We couldn't agree more. Contemplate then...
Thank you to Linda Cooper Foreman and the entire Teachers Development Group team for once again creating an exceptional learning experience for all. As always, we are leaving TDG's Leadership Seminar grateful for the participants' energy and engagement as they grappled with and provided insights into our "rough draft"...